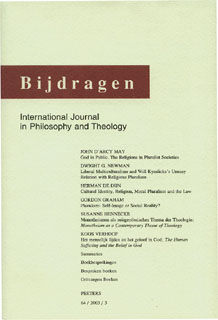 Document Details :

Title: De katholieke geloofsbelijdenis en de katholieke ambtseed in canoniekrechterlijk perspectief
Subtitle: Catholic Integrity. The Catholic Profession of Faith and the Catholic Oath of Fidelity from the Point of View of Canon Law
Author(s): MEIJERS, Tom
Journal: Bijdragen
Volume: 66 Issue: 3 Date: 2005
Pages: 254-271
DOI: 10.2143/BIJ.66.3.2002068

Abstract :
The article is focused on the profession of faith and the oath of fidelity, as has been formulated in 1989 by the Congregation of Faith. Catholic clergy as well as Catholic theologians are obliged to profess the Catholic faith and to take the oath before assuming an ecclesiastical office or function. The analyses and reflections are from the point of view of canon law.
A retro prospective view makes clear that the profession and oath belong to the disciplinary tradition of the Church. The Council of Trent offered the first more or less systematic regulation. The profession and the oath intend to guarantee that ecclesiastical ministers and Catholic theologians are (and will remain) in full communion with the Catholic Church.
The three additional paragraphs (to the Nicene-Constantinople Creed) of the profession and the text of the oath are condensed formulations of canons of the Code of Canon Law. In that way the profession and the oath are indirectly a part of the disciplinary corps of the Code. Their canonical disciplinairy significance has been investigated. The article ends with some general conclusions and considerations.