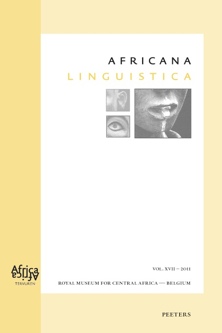 Document Details :

Title: The Languages of the Lower Fungom Region of Cameroon
Subtitle: Grammatical Overview
Author(s): GOOD, Jeff , LOVEGREN, Jesse , MVE, Jean Patrick , NGANGUEP TCHIEMOUO, Carine , VOLL, Rebecca , DI CARLO, Pierpaolo
Journal: Africana Linguistica
Volume: 17 Date: 2011
Pages: 101-164
DOI: 10.2143/AL.17.0.2146552

Abstract :
The Lower Fungom region of Northwest Cameroon is one of the most linguistically diverse areas of the Cameroonian Grassfields. Seven languages, or small language clusters, are spoken in its thirteen recognized villages, four of which are restricted to a single village. While the languages are all plausibly classified as Bantoid, five of them do not have any established close relatives outside of the region, nor can they be straightforwardly shown to be closely related to each other. Until recently, these languages have not been subject to extensive investigation. Since 2005, available information on them has increased significantly, and it is now possible to provide an overview of their grammatical structures. This paper offers sketches of phoneme inventories, pronominal and noun class systems, and verb stem alternations of six of the region's seven languages, in addition to providing background information and an updated map. Received classifications of the region's languages are reassessed, and a concrete proposal is made to reclassify the group of languages presently known as Western Beboid into a referential grouping which we term the Yemne‑Kimbi.


---

La région du Lower Fungom, au nord-ouest du Cameroun, est l'une des zones présentant la plus grande diversité linguistique des Grassfields camerounais. Sept langues ou petits groupes de langues sont parlés dans ses treize villages reconnus, et quatre d'entre eux se limitent à un seul village. Alors que ces langues peuvent être toutes classées comme bantoïdes, cinq d'entre elles n'ont aucun parler fortement apparenté en dehors de la région, et ne peuvent être présentées directement comme étroitement reliées les unes aux autres. Jusqu'il y a peu, ces langues n'ont pas fait l'objet d'études approfondies. Mais depuis 2005, les informations disponibles à leur sujet se sont accrues considérablement, et il est aujourd'hui possible de fournir une vue d'ensemble de leurs structures grammaticales. L'article offre des esquisses d'inventaires des phonèmes, des systèmes de classes pronominales et nominales et des changements de radicaux verbaux de six des sept langues de la région, tout en fournissant les informations de base et une carte mise à jour. Il réexamine les classifications reçues des langues de la région, et suggère par une proposition concrète de reclasser le groupe des langues connu actuellement sous le nom de béboïde occidental dans un groupement référentiel que les auteurs nomment «yemne-kimbi».


Download article