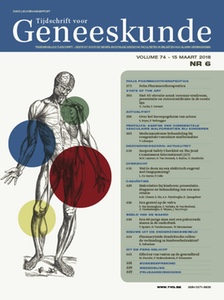 Document Details :

Title: De blindheid van Joseph Plateau. Mythe en realiteit
Author(s): DE LAEY JJ
Journal: Tijdschrift voor Geneeskunde
Volume: 58 Issue: 13 Date: 2002
Pages: 915-920
DOI: 10.2143/TVG.58.13.5001372

Abstract :
Joseph Plateau (1801-1883) werd reeds vroeg in zijn loopbaan gefascineerd door problemen van visuele waarneming, alhoewel zijn kennis over refractie beperkt was. Zijn studie van nabeelden en van discontinue visuele stimulatie zal leiden tot de ontwikkeling van de phenakitiscoop, de voorloper van de cinematograaf.
Plateau ontwikkelde visuele klachten op de leeftijd van 42 jaar. Zelf schrijft hij zijn problemen toe aan een experiment uitgevoerd in 1829 waarbij hij gedurende meer dan 25 seconden rechtstreeks in de zon keek. Naar alle waarschijnlijkheid is de blindheid echter het gevolg van chronische uveïtis, waarvoor in de jaren 1840 nog geen doeltreffende behandeling bestond. Plateau die volledig blind werd in 1844, het jaar waarin hij tot gewoon hoogleraar aan de Gentse Universiteit werd bevorderd, bleef wetenschappelijk actief tot zijn dood, veertig jaren later. Hij is een schitterend voorbeeld dat een blinde, niettegenstaande zijn handicap, een maatschappelijke rol en in zijn geval ook een belangrijke wetenschappelijke rol kan vervullen.



---


The blind Joseph Plateau. Myth and reality
Joseph Plateau (1801-1883) was fascinated already early in his scientific career by the problems of visual perception although his knowledge of refraction was limited. His studies on after-images and on discontinuous visual stimulation will lead to the development of the phenakitiscope, which can be considered as the ancestor of cinematography.
Plateau's visual problems apparently started when he was 42 years old. He considered them to be the consequence of an experiment in 1829 when he gazed for more than 25 seconds directly in the sun. However, we have reasons to believe that his blindness was due to chronic uveitis, in a period where there was no efficient treatment of this condition. Plateau became totally blind in 1844, the same year he was promoted ordinary professor at the University of Ghent. He will remain scientifically active up to his death 40 years later. He is a splendid example that a blind person, despite his handicap, can play an important social and in his case also a scientific role.